On Tuesday, a fire and rescue officer visited Year 3!
He spoke to us about how to stay safe and calm during a fire.
This included:
Keeping doors closed to prevent smoke and fire from travelling.
Stop, drop and roll!
How to call 999.
Having an escape plan and many more ideas.
We also learnt about how to be a safe passenger in a vehicle because we now know that fire and rescue officers do much more than just putting out fires!
We had a fantatsic afternoon and learnt lots!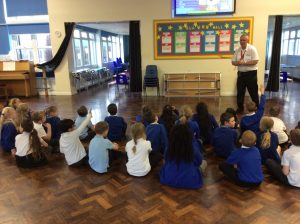 The children have taken home a fire safety activity and other fire safety related items. If the certificate is completed and returned to school,  they will receive a certificate!