Whilst academies and schools play a lead role in safeguarding children from the risk of harm, safeguarding children and protecting them from harm is everyone's responsibility. Everyone who comes into contact with children and families has a role to play.
The purpose of our safeguarding policy and procedures are to ensure that every child who is a registered pupil at our school is safe and protected from harm. This means we will always work to:
Protect children and young people at our school from maltreatment;
Prevent impairment of our children's and young people's health or development;
Ensure that children and young people at our school grow up in circumstances consistent with the provision of safe and effective care;
Undertake that role so as to enable children and young people at our school to have the best outcomes.
Our Safeguarding Policy gives clear direction to staff, volunteers, visitors and parents about expected behaviour and our legal responsibility to safeguard and promote the welfare of all children at our school and it is available to download on this page.
Our school fully recognises the contribution it can make to protect children from harm and supporting and promoting the welfare of all children who are registered pupils at our school. The elements of our policy are prevention, protection and support and the policy applies to all pupils, staff, parents, governors, volunteers and visitors.
Our Ethos
The child's welfare is of paramount importance. Our school will establish and maintain an ethos where pupils feel secure, are encouraged to talk, are listened to and are safe. Children at our school will be able to talk freely to any member of staff at our school if they are worried or concerned about something.
Everyone who comes into contact with children and their families has a role to play in safeguarding children. We recognise that all staff at our school play a particularly important role as they are in a position to identify concerns early and provide help for children to prevent concerns from escalating.
All staff and regular visitors will, through training and induction, know how to recognise indicators of concern, how to respond to a disclosure from a child, how to record and report this information and how to help protect children and young people from being drawn into radicalisation and terrorism.  A link to information from GOV.UK on the Prevent Duty can be found on this page.
We will not make promises to any child and we will not keep secrets. Every child will know what the adult will have to do with any information they have chosen to disclose.
Throughout our curriculum, we will provide activities and opportunities for children to develop the skills they need to identify risks and stay safe. This will also be extended to include material that will encourage our children to develop essential life skills. Pupils will undertake age-appropriate learning to enable them to identify such risks and stay safe, attending such events as Crucial Crew, which deals with drugs and substance abuse, e-safety and involvement of emergency services. We set online filters in school and monitor pupil's internet use as part of our work to prevent and protect them from radicalisation and extremism. Through class/ whole school discussions children learn about puberty and appropriate/safe relationships and stranger danger, extremism and the British values of freedom of speech, equality and democracy through our 'Rights Respecting School' agenda and older pupils participate in Democracy week with visitors into school and discuss their rights and responsibilities. Each class has a class charter drawn up each year to further support these rights. Children are taught how and who to ask for help if they are worried about anything. Assemblies, circle time and class discussions will provide further opportunities to discuss these issues within a safe environment. Worry boxes are used for children to raise concerns anonymously and their use is monitored and issues promptly addressed.
At all times we will work in partnership and endeavour to establish effective working relationships with parents, carers and colleagues from other agencies in line with Working Together to Safeguard Children (2015).
Responsibilities
If you have a safeguarding concern or would like to know more about how we keep children safe from the risk of harm, please see one of the following members of staff –
| | | |
| --- | --- | --- |
| Role | Name | Contact school on |
| Designated Safeguarding Officer | Mrs C Oxborough |  01709 828242 |
| Deputy Safeguarding Officer |  Mrs K Dobson |   |
| Safeguarding Governor |  Helen Bolton |   |
|   |   |   |
| Headteacher | Mrs C Oxborough |   |
It is the responsibility of every member of staff, volunteer and regular visitor to our school to ensure that they carry out the requirements of this policy and, at all times, work in a way that will safeguard and promote the welfare of all of the pupils at this school. This includes the responsibility to provide a safe environment in which children can learn.
Safeguarding concerns should be raised by anyone who comes into contact with a child – either outside or inside school. For all adults, a written account will be required on a 'Safeguarding Concern' form, which is available from the main office.
If you are worried about a child
If the child is in immediate danger contact the police on 999 (in an emergency)
If the child is not in immediate danger then contact Rotherham Children's Social Care Services to report your concerns.
Call the Multi Agency Safeguarding Hub (MASH) on 01709 336080.
If the child is not in immediate danger but you believe a crime may have been committed then call the police on 101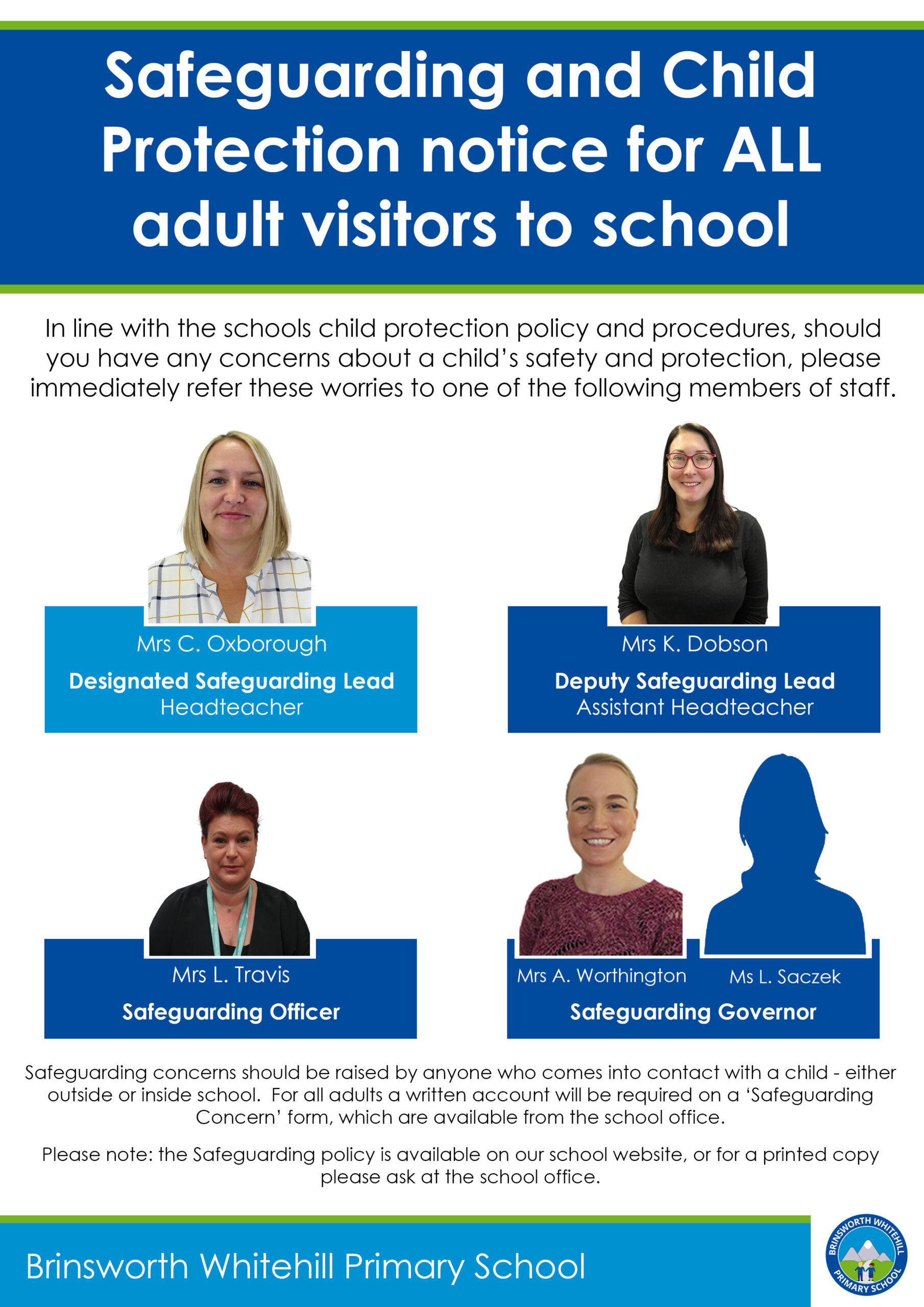 Operation Encompass
Brinsworth Whitehill Primary School is part of a project that is being run across Rotherham/South Yorkshire. It is called Operation Encompass, a partnership between South Yorkshire Police, schools & colleges, supported by the Rotherham Safeguarding Children Partnership.
Operation Encompass has been designed to provide early reporting on any domestic abuse incidents, where the police have attended and that might have an impact on a child in an education setting.
A key member of staff in the school will be informed when a domestic abuse incident has occurred within the previous 24 hours or over the weekend. This will enable the school to monitor children possibly affected and, where required, support if necessary.
The designated member of the safeguarding staff will use this information in the strictest confidence. They will also ensure that the school is able to make provision for possible difficulties experienced by children, or their families, who have been involved in, affected by, or witnessed a domestic violence incident.
As ever, we are keen to offer the very best support possible for our students.
More information to help keep your child safe and healthy
For information on supporting your child with drug safety, sex and relationship education, mental health etc.
Positive mental health and emotional wellbeing for children and young people.
E-safety and keeping your child safe online.
www.nspcc.org.uk › keeping-children-safe

https://www.thinkuknow.co.uk › parents
Resources for parents for information and support on preventing radicalisation and extremism.