This little F2 star has been practising to write his name, playing word activities, enjoying the fresh air and helping to make things in the kitchen. Mousetrap and snakes and ladders have been his favourite games to play so far! We love hearing about all the lovely things you've been doing at home!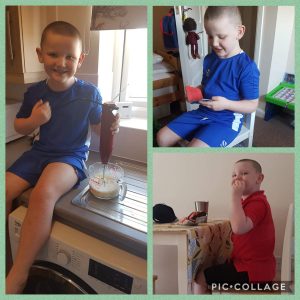 Mrs Westnidge and Mrs Fox have loved seeing these pictures! What a busy bee! We can't believe how tall your plant has grown! Excellent recording in your seed diary, well done!
This beautiful spring artwork has made us all smile in Foundation! It also looks like this F2 pupil knows her rhyming words! Well done!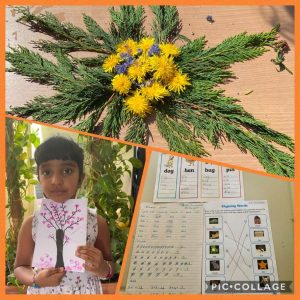 Super home learning from this little F2 star! Reading, writing Tricky Words, sentence writing, number work and baking! Mrs Westnidge and Mrs Fox are very impressed! Your daily walks look great and what a fun idea finding twigs that are shaped like letters!
Wow! Lots of lovely learning indoors and outside from this little F2 wonder! Your Spring Land Art is very pretty, Mrs Westnidge and Mrs Fox are impressed!
Wow! What a great F2 artist we have! She has drawn a fire engine with the firemen saving a cat! We really like that she's keeping busy and enjoy herself! Well done!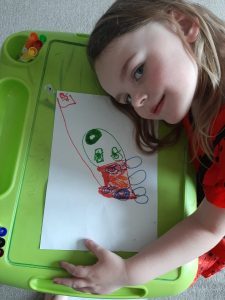 Wow! What a beautiful birthday card along with some fantastic number formation from this F2 star!
What a creative little girl in F2! Wow!! We're really impressed with your creations and artwork, you have been super busy, well done!